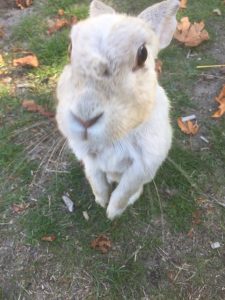 My second day in Vancouver started a little slow.  I had breakfast and then took some time to take care of a few things like laundry, groceries and cleaning out the Jeep…it's been a long trip. 🙂  After that I set out to see a few things around the Vancouver area…. 
My first stop was at Jericho Beach Park (images) just southwest of downtown Vancouver.  From here I had a good view of the Strait of Georgia, Bowen Island (images) and the city of Vancouver…
After seeing mountain goats, bighorn sheep and bears in Banff, Jasper and Garibaldi the last place I expected to see "wildlife" was in middle of Vancouver.  But I guess you just never know.  But as I trekked back through the park from the beach I came across this "wild" little creature and just had to stop and say "hi" and well, take some pictures….because that's what I do. ha ha
I don't know if he was "wild" or a rabbit that someone had let go but it was obvious that he was used to being fed by humans since he came so close.  Either way he was definitely cute! 🙂
My next stop was Granville Island (webpage, images).  Granville Island is actually a small peninsula that is located near downtown Vancouver.  The Granville Island Public Mark contains shops, restaurants, pubs, art galleries, performing arts theaters, a marina, hotel and a farmers market with fresh meat, fish and vegetables…and much more.  It was a beautiful day so I spent some time just walking around taking everything in.
Click here for a 360 view from the Granville Island Marina
When I left Granville Island I made my way through the middle of downtown Vancouver and then west to Stanley Park (images).  It is a large public park (over 1000 acres) in between downtown Vancouver and West Vancouver and it is surrounded by water on 3 sides between English Bay & Vancouver Harbor.  It became Vancouver's first park when it incorporated in 1886. It is a beautiful park as most of it is still densely forested like it was in the late 1800's.  The park has a rich history and the many miles of hiking, biking and running trails are still heavily visited and used by both locals and tourists alike.
I left Stanley Park and drove down Beach Ave to English Bay Beach (images).  English Bay Beach is in the West End (images) section of Vancouver.  It's a really nice neighborhood with many nice restaurants, coffee houses, apartment buildings and parks.  One of the parks contains a sculpture that you may recognize but probably would not have known that it was in Vancouver.  It's called "A-maze-ing Laughter" (images).  The sculpture was created by artist Yue Minjun as part of the Vancouver International Sculpture Biennale.  It was dedicated to the city of Vancouver in 2012.  The inscription behind the statues says, "May this sculpture inspire laughter playfulness and joy in all who experience it." I really liked the English Bay Beach neighborhood.
By the time I left the English Bay Beach area it was after sundown.  I started back across the city to head south toward Richmond BC , a suburb of Vancouver.   As I driving I saw a woman walking two dogs and one of them made me happy and sad at the same time because he reminded me of my dog Jack….I miss him!
Goodbye again from Vancouver British Columbia Canada.
Until next time…..
"Every new beginning comes from some other beginning's end." — Closing Time by Semisonic
Click here to view all pictures for "Vancouver #2 – Day 40"
Click here to view all past and current – Pictures
Click here to view all past and current – Videos