The first thing I did when I woke this morning was check the weather.  The forecast for today was still very iffy with a 60% chance of rain/snow mix and highs in the 40s.  So, I decided to do another canyon hike that was recommended to me by a couple of people (thank you Walt Fromm) called Cascade Canyon (AllTrails, Images).  I arrived at the trailhead next to Jenny Lake and started my trek for the day.
As I posted on Facebook the day of the hike, the skies were angry that day my friend (can you guess the reference for that comment…..hint, replace "skies" with "seas").
So I stuffed my rain jacket into my day pack and headed out.
As I began hiking the skies actually began to clear some (yay!).  I hiked around the backside of Jenny Lake for about 30 – 45 minutes.  I passed a few folks along the way and one of them stood out to me.  Not because of who they were or a dog they had with them (you've probably noticed I always stop and say hello to our 4 legged friends 🙂 ) but because of what they were carrying.  Not that this is always the case but generally speaking you try and pack light as possible when hiking and carry only the "essentials" and of course each person has their own definition of "essential".  I loved this definition of hiking "essentials"…..  🙂
With all the bad things in the world today it's a great reminder (to me anyway) that there are still a lot of fun, happy things around us everyday if we just make an effort to see the good and not focus on the bad.  This brought a HUGE smile to my face and was just a great way to begin a day!  Thanks to a little girl and her 2 stuffed toys.  🙂
The trail headed up through the woods for the next hour or so with nothing much to see….except for a huge downed tree that just struck me as really cool looking…..so I stopped and took a picture of course. 🙂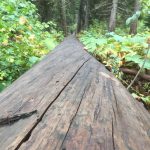 Once I passed the steep part of the the trail mostly flattened out and I began to hike into the canyon.  Although I could not see very far in front of me at this point I could tell by the canyon walls on both sides of me that this was going to be really cool.
Click here to see 360 view of the canyon walls in Cascade Canyon
Click here to see a second 360 view of Cascade Canyon
I continued to hike up the canyon for about 25 more minutes and came to a nice opening where the creek pond up. It was very picturesque and looked like a great place to maybe see a moose or other wildlife.  So I stopped for a few minutes to look around and soak it all in.
Click here to see a 360 view of this area
Continuing on for just a few minutes I came to a beautiful multi-tear waterfall on the left canyon wall coming straight down from Grand Teton Mountain. Although I could not see the top of Grand Teton because of the clouds it was still an amazing view.  I stopped about 20 times over the next 1/2 mile or so just to gaze at it and (of course) take pictures. 🙂
As I continued up the canyon it began to rain, a little at first and then a LOT (ugh)!  I stopped under a tree to put on my jacket and ran into a guy I had met on my hike yesterday at Amphitheater lake.  He was from California and had traveled to Wyoming to see the eclipse.  He was taking his time traveling back to California and hitting a few parks on the way back.  We had a nice chat under the tree trying to wait out the worst of the rain.  The trail junction, where I was headed, was still about 1 mile up the canyon.  Due to the weather he had decided to turn back at this point and I was seriously  considering it myself when a small group of guys I had been passing back-and-forth for the past hour up the canyon passed by.  I had been talking with these guys off and on for an hour or so, so I decided to jump in with them for the last mile.  So I said adiós to my new California friend and continued up the canyon…in the rain. 🙁
When we reached the trail junction we all stopped to get some snacks and water.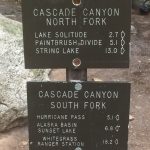 By this time the worst of the rain had pretty much passed so we spent some time there eating and chatting.  As it turns out they were all from just north of Scranton PA.  It was a guy with his young son, his brother-in-law and his father-in-law.  At this point it was only the 3 as the father-in-law had dropped off about a mile back to wait for their return.  He said he and his brother-in-law were rock climbers and they had been to the Tetons several times.  He had actually climbed Grand Teton and used the same hiking route that I took yesterday (by accident) to the Garnet Canyon saddle.  They were not rock climbing this time only hiking so he decided to bring his young son, which was really cool!  This is something I would have loved to have done with my father (he died when I was very young) so it brings me great joy when I see dads doing things like this with their children.
We continued our conversation as we finished our lunch and started back down the canyon.  He was very interesting and I picked his brain for recommendations at Teton and other western parks I was planning to visit.  After about a mile we met back up with his father-in-law and said goodbye as they were going to be hiking much more slowly at this point.
As I continued down the canyon I kept a sharp eye for wildlife as this location along with the fresh rain were ideal conditions.  And I was not disappointed because as I approached the pond area I had passed coming up I spotted a cow moose grazing on a small island in the middle of the creek. It was so peaceful just watching her go about her day with no care what-so-ever of me….
After several minutes she disappeared into the foliage and I continued on.  When I got back to the pond area I just had to stop and take a few more pictures as it was just too beautiful to pass by without stopping to appreciate it one more time…. (note the reflection of the mountain in the 3rd pic….I LOVE that)
As I continued down through the canyon I couldn't help but stop every for feet (it seemed like it, ha ha) to look back and take more pictures.  This is one of my "issues" with hiking as I always hate to leave places like this! 🙂
Reluctantly (there I go again, ha ha), I continued on and about an hour later I was back to the trailhead.  When I walked back into the parking area there was an older couple sitting in chairs next to their RV having coffee. As I approached (I was parked next to them) the man began clapping and said, "good job".  I loved that even though they could not do the hike themselves they sat there and had a good time supporting and encouraging others.  Now how cool is that!
Once back at my car I changed out of my hiking boots, made a quick lunch and headed into Jackson to spend some time blogging at Starbucks (for the free wifi not coffee 🙂 ).
On my way to Jackson I spotted a small herd of pronghorn sheep walking through the meadows…..
As I was sitting in Starbucks a gentleman came in with a small dog. Now, as I mentioned earlier, I almost always stop and "talk" to the dogs I pass but this one even more so as he was a miniature American Eskimo like my dog Jack.  So I quickly went over to say hello….
The dog, and the man, were both very friendly so we began to chat (the man….the dog didn't have much to say but he did wag his tail a lot 🙂 ).  The man (Bob) told me that the dog (Cody) was very special to him.  He had been his daughters dog and his daughter had died 3 years ago.  So Cody was a connection he still had with his daughter.  It was so sad but you could definitely see the love he had for Cody and that was cool.  And as we continued to talk it turns out we had something else in common (other than an American Eskimo dog).  It turns out that Bob was a retired orthopedic surgeon and he was very familiar with my former company (of 21 years) Synthes.  Bob was very familiar with the company, the products and had actually been to Davos Switzerland for Synthes related training sessions.  He had a long history with Synthes and knew many former sales folks from Synthes.  He had retired a few years ago and moved to the Jackson area (definitely not a bad place to live).  He was a great and very interesting guy and we stood there and talked for probably 15 minutes.  As I keep saying….as the name of my web page says, it IS a small world!
Click here to view all pictures for – Grand Tetons #3 – Day 20
Click here to view all past and current – Pictures
Click here to view all past and current – Videos