I woke this morning still feeling really energized by yesterdays hike and I was ready to head north again. After breakfast I topped off my gas and made my way back onto the Trans-Canada Highway (wiki). After about 5 miles I took the Icefields Parkway, hwy 93 north toward Jasper park and Jasper town.
Several people had told me how beautiful the drive up the Icefields Parkway (images) was so I was really looking forward the drive today. The first place I came to was Herbert Lake (images). Like pretty much all of the lakes I've seen in Banff NP, Herbert Lake was crystal clear. There was still some fog in the air so the the surrounding mountains were a little hazy, but it was still a great view…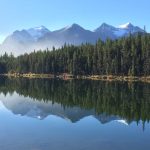 The next place I stopped was Peyto Lake (images). I had decided I was going to do a short hike here to the Bow Summit Lookout. The lake was absolutely incredible! It was turquoise and completely still so the reflections of the surrounding mountains shimmered on the surface. I took a couple of pictures as I left the parking area and then I stopped at the first observation area and took some more, completely unbelievable pictures…
I continued my hike to the Bow Summit lookout. It was only about 1.75 miles up but a descent climb. As I reached the top I was hiking in a snow field. From the top you can see Bow Lake (images) as well as a really nice view of the mountains surrounding the Bow Valley. The mountain views were great…
Click here to see a 360 from Bow Summit
I next made a brief stop at the Waterfowl Lakes for a few quick pictures…
As I continued to drive north I passed over the Saskatchewan River at Saskatchewan River Crossing (appropriately named :-), images). It was very beautiful.  As soon as I crossed the bridge there was a gravel road to the left so I immediately turned off and headed down it. It was a very short road that actually ended under the bridge I had just crossed over. From that point I could easily see in both directions up and down the river and the mountains and valleys. It was such a clear day. The only "problem" was trying to take pictures with such a bright sun in the sky (I'll take that problem over clouds and rain any day!).
As I continued north I stopped and took a few more pictures of various things that I saw along the way…
After 30 minutes or so I came to the trailhead for the next hike I was planning to do today…Parker Ridge (images, AllTrails). Parker Ridge is a relatively short hike (about 1.5 miles one way) and moderately steep (750′ in the first mile). It leads to dramatic views of the Saskatchewan Glacier. Saskatchewan Glacier (images) is the headwaters for the Saskatchewan River. As always I hiked hard and fast to the summit and then took a lot of time at the top taking pictures and soaking it all in. The glacier was really cool (no pun intended, ha ha). I hadn't seen a glacier like this since I was in New Zealand (see "Day 31 – Franz Joseph" post) last year. The trail kept going beyond the summit so, of course, I kept going. 🙂 From this point on the trail hugged the rugged and rocky side of the mountain (see pic below) until I reached the end of the trail…literally (see pic). The view here was stunning….
Click here to see a 360 view from the end of the trail
After a while I started back. But when I got back to the saddle of the trail I noticed an even higher summit to my right. I didn't see a trail as it was way too rocky. But it certainly looked like something obtainable…so off I went! 🙂
It was a tough climb. Much tougher than the trail up from the parking area. I could what I thought were a couple of cairns way up on top but I couldn't be sure. Regardless it was a fixed point way above me that I could navigate to so I did just that. After 1/2 hour or so of pretty tough rock scrambling I could clearly see that they were cairns and in another 5 minutes or so I was standing beside them. The view from here was great! 360 with snow covered mountains all around…just what the doctor ordered!
Click here to see a 360 view from the top
By this time it was beginning to get late in the day and the sun was quickly dropping from the sky. From my current location I estimated it would take an hour or so to get down so I decided to head back. Going down over large rocks is just about as difficult as going up…maybe more in someways. So I took me some time to reach the main trail. But once I was back on the main trail I descended pretty quick.
When I made it back to the parking area I saw a sign that I had not seen before I went up. So let's see…bears, snakes, wolves, falling off a cliff, rock slides, avalanches, etc. These are all things you have to think about when hiking out west. But this was the first time I ever had to lookout for, "unexploded warheads" while hiking. I'm happy to report I did not find any. 🙂
After unloading my pack and changing from my hiking boots I once again headed north. In just a few minutes of driving I entered into Jasper National Park (images).
A few minutes later I passed through the Columbia Icefield Discovery Centre area…..I'll have more about this area in tomorrow's post.
After about 20 more minutes I found a beautiful place beside the Athabasca River to pull-off and make dinner. Although it turned out to be hard for me to make dinner here because all I wanted to do was take pictures of the gorgeous river and the beautiful Aspens with their beautiful yellow leaves. What a great place to eat dinner!
Click here to see a 360 view of this beautiful area
By the time I left this area it was just about dark. I continued on north for another 45 minutes or so and finally made it to the town of Jasper. As usual I drove around and checked things out. Jasper looked like a nice town. It was still touristy but seemed to be a little more "blue coller" than Banff. I took some time to buy some groceries and fuel for my cook stove and then I found a place to grab a local brew before calling it a night.
Most of the time I find things that have been really "hyped" up often fall short. However, I am happy to say that the drive from Lake Louise to Jasper on The Icefields Parkway, hwy 93 completely lived up to expectations and then some! It was another great day in the Canadian Rockies (images)!
So goodbye for now from Jasper Canada!
And until next time…..
"The greatest danger for most of us is not that our aim is too high and we miss it, but that it is too low and we reach it" – Michelangelo
Click here to view all pictures for "Icefields Parkway – Day 33"
Click here to view all past and current – Pictures
Click here to view all past and current – Videos
Click here to view the Facebook post for "Icefields Parkway – Day 33"