Due to the weather and the fires I decided that, reluctantly (again), today would be my last day in Glacier NP.   I was planning to cross over into Canada at the Chief Mountain Port of Entry boarder crossing on a somewhat remote road (Hwy 17) about 45 minutes north of the Many Glacier area.  But before I left I wanted to get in one more hike in this beautiful park. So with that in mind I looked at my map and chose a remote hike that I could access from Hwy 17.  On my way to the trailhead I took a few more pictures of the Many Glacier area and got my first close look at Chief Mountain.  It was a gorgeous morning….of course it is, I'm leaving! ha ha
The trail I chose was the Belly River Trail (images).  The trailhead was literally 100 yards from the border crossing station. Once again I knew almost knowing about this trail and quite frankly, didn't really expect much in the way of scenery.  But I was just looking to get out on the trail and for a good workout.  So off I went.
The trail begins by descending about 1000′ through a thick pine forest into the Belly River valley.  As I walked I did my standard, "Hey Bear!" about every 2 minutes or so and kept a close watch as this seemed, to me anyway, like prime bear territory.  After about 45 minutes or so I began to see breaks through the trees and I could make out some mountains on the other side of the valley.  I couldn't see much at this point but I was starting to get a little excited. 🙂
I hiked for another 25 minutes or so and finally reached the river.  After that I hiked for probably another 1/2 and reached the first of 3 open fields and BAM…what a view!!!!
Ok, so now I'm excited! 🙂
I continued to hike stopping literally every 100 yards or so just to look around and take more pictures.  At this point I was thinking there's not a trail in this park that doesn't have an amazing view!  After oh, I don't know, another 3/4 of a mile I came to the second open field and got my first view of Chief Mountain peaking above the mountains on my left.  I had read there was a trail off of this trail that went to Chief Mountain but my destination was the Belly River Ranger Station.
Click here to see 360 view of the Belly River Valley
I hiked on for another mile or two and finally came to the junction for the camping area and the ranger station.  I continued on a little further and saw the ranger station to my left.  At this point the mountains to my left, front and right were just breathtaking. I made my way up to the station and a lady park ranger came out and met me on the porch.  We had a great conversation talking about the area, the park, the fires and she and her husbands lives at a remote ranger station.  She said they keep 3 horses and use them to get in/out of the station and to haul provisions every couple of weeks.  I have to say as I listened to her I was pretty envious.  We said our goodbyes and I started back down the trail…but not before I stopped and took several pictures.  For the comment in my Facebook post of the picture with the ranger station I said, "the best office in the world".  It was truly beautiful there…..
Click here to see 360 view of the Belly River Ranger Station area
Wanted to share this too….on the porch of the ranger station they had a bulletin board for the hikers passing through.  On this board they had a couple of things I really appreciated.  The first was funny (for hikers) and the other spoke volumes…..
The quote basically captured the essence and purpose of my web page and one of my greatest passions. If we would just take the time and make the effort to get to know those people, places and things that we "fear" or do not know or understand, for ourselves, instead of listening to the media, leaders or others, what a difference it would make in our lives and the world.  At least, that's the way I read it.  As Mahatma Gandhi said, "You must be the change you want to see in the world."  Something to think about…..now back to the hike.
My trip back was mostly non eventful.  I raced to beat the weather (snow) that you can see in the last picture above, saw 2 grouse and continued to shout, "Hey Bear" as I passed an large area of Aspen where the bear had clawed and eaten the bark off of almost every tree….
The only thing about this trail was that it was backwards.  What I mean is that with most trails, at least most of the ones I do, you begin with a climb…presumably when your energy is at its highest and you end with a descent.  But with this trail you begin with a 1000′ descent and end the 16 mile hike with a 1000′ climb….that's just a kick in the teeth.  ha ha  Anyway, it was a good hike and my kind of trail….16 miles and never passed another person.  The only person I saw all day was the ranger at the station.  I wanted a good remote hike and the Belly River Trail certainly delivered!
Now, I was anxious to get back because I had read that the boarder crossing closed at 5 (or 6).  Also, the ranger I spoke with told me that she thought this particular boarder crossing was closed due to the fires they were having in Waterton park in Canada.  I knew that Waterton park had been closed for at least the past 2 weeks but I didn't think about the boarder crossing being closed and I saw a sign saying it was open. But she was pretty sure and even called her district manager to confirm and he said he thought it was still closed as well.  If so, that would be mean a 30 mile backtrack for me.  Not the end of the world but a bummer none the less.
So I got back to my car, changed out of my hiking clothes and boots and pulled out of the trailhead lot for the boarder crossing.  From what I could see it certainly looked open, so I drove up to the gate and sure enough there was a lady working the gate.  When I told her about my discussion with the ranger she said that the crossing had just opened at 2 PM today (it was about 4 now) and that Waterton had just opened a very small portion of the park today as well, mostly around Waterton Village.  So she asked the standard what are you planning to do, where are you planning to go, how long are you staying, etc.
One funny thing though….she asked if I had any weapons which I said no.  Then she asked if I liked to hunt, which I thought was a weird question, but again I said no, not really. So she said, "so you just like to wear hunting clothing" and pointed to a camo sock cap that I had.  I laughed and told her I had this cap, not because I like to hunt but because I'm cheap and it was $3 at Walmart in Wyoming….which was totally true.  ha ha  I guess I passed because she let me through.
Another funny story (at least I thought it was funny)….for 18 miles there was cattle on the road. I saw these 4 walking toward the border crossing. Maybe they were going to Canda for cheap prescription drugs? 🙂  Anyway.  About 5 minutes later they came walking back.  I guess they forgot their passports. (ha ha….well, like I said, I thought it was funny). 🙂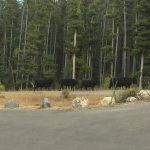 So once I entered into Canada I was Waterton Lakes National Park (images) Canada.  Waterton is basically the Canadian side of Glacier National Park.  The drive down the mountain was very beautiful….
I knew that Waterton had been experiencing some really bad forest fires.  That's the reason it had been completely closed for at least 2 – 4 weeks before I arrived.   Now, keep in mind that they just re-opened a small portion of the park today, so I was one of the first civilians to enter it. I didn't really see any of the damage until I reached the bottom of the mountain and turned toward Waterton Village.  But as I drove the short distance to Waterton Village I could plainly see the devastation on both sides of the road and just before I reached the village I saw the most evident result of the fire as the Waterton Visitors centre was completely destroyed….
Now, I know I'm projecting my human thoughts and emotions on animals with what I'm going to say next but it sure seemed to fit….as I drove up to what was, until a few days ago, the visitor's center there were for bighorn sheep standing in front of it….
While it was great that they had obviously survived the fires, to me, they looked like they were thinking, "what do we do now" and "where do we go now". Again, I obviously have no way to know what they may be thinking but it was pretty sad to watch them standing there when most of their home had been destroyed.
I drove around Waterton Village and amazingly the only building that had been destroyed was the Visitor's Center.  There was writing in several of the windows of the houses and businesses saying thank you to the firefighters for, "saving our town".  That was pretty cool.
As I drove out of town I stopped for a few minutes to speak with a ranger.  He said there were still a few spot fires but they were considered "contained".  He said something else that I will never forget….of the 195 square miles (he gave it in km of course) 70% of the trees in the park had been destroyed…WOW…that was incredible.  As I continued on out of the park I saw a helicopter flying over with a water bucket still fighting the spot fires.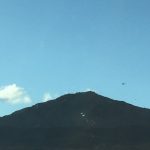 By the time I started out of Waterton it was beginning to get dark.  I drove another 2:30 hours on to my final destination for the day……Calgary.
Until next time….."Do what you can with what you have where you are." – Theodore Roosevelt.
Click here to view all pictures for – Glacier #4 & Canada – Day 26
Click here to view all past and current – Pictures
Click here to view all past and current – Videos