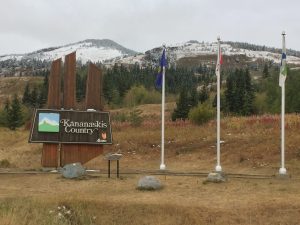 I woke up in Calgary, Alberta, Canada this morning.  The forecast called for periods of rain off and on all day so I had already decided today was going to be a "blog and laundry" day.
I decided to go to an iHop for breakfast for a change from the breakfast I normally make every morning.  After breakfast I went to the Calgary public library to use the internet like I had in Bozeman, MT.  However, unlike the Bozeman library (where I was able to easily connect) the Calgary library required a library card….crap!  So I went to the desk and explained to a very nice lady named Mary Angela that I was just passing through and I only needed to use the internet.  She was able to set me up with an internet only library card and within minutes I was connected.  Thank you Mary Angela!
Once connected, I sat in the library for the next 6 hours and uploaded pictures, posted to Facebook and wrote 2 blog articles. When I left I drove to the closest laundromat I could find, threw a load in the washer and walked to a Vietnamese restaurant down the street for dinner.  It was ok but definitely not the best Vietnamese I've ever had.  After dinner I returned to the laundry, moved everything to the dryer and sat and blogged some more as the laundry had free wifi.  My laundry finished about 15 minutes before the laundromat closed but the lady working at the laundromat was nice enough to let me stay and continue to use the internet until she was finished cleaning 30 minutes later.  That was very nice of her and I was very appreciative.
And that was pretty much it for Day 27.  In looking back through my pictures I didn't even take one today….which was unprecedented.  🙂
Day 28 also began in Calgary but unlike yesterday I went back to making my own breakfast today. 🙂
After breakfast I headed back to the library to try and write another blog article before I left for Banff in the afternoon.  So I stayed at the library about 4 hours (longer than I wanted) and did manage to complete and post another blog article.  Before I left the library I looked for Mary Angela to say thank you one more time but unfortunately she was not there.  So wherever you are Mary Angela, thank you!  Oh, and I did take one picture this morning….this little boy sat down right in front of me and of course I just had to take his picture (notice the hat)…  🙂
After I left the library I grabbed some lunch and then headed to the downtown area to take a look around before I headed out.  I drove around the downtown area and went by the Calgary Olympic Plaza.  The Olympic Plaza was built by the city of Calgary as the venue for the medal ceremonies at the 1988 Winter Olympic Games.  I drove around for a few minutes but was in a hurry to get going so I grabbed some gas and some last minute grocery's and said goodbye to Calgary.
My ultimate destination for the afternoon was the town of Banff in Banff National Park.   Although Calgary is less than 1:30 hours from Banff via the Trans-Canada Highway, I wanted to go south and come up through Kananaskis Country (images) via highway 40.  This route was about 3:30 – 4 hours.  Although I knew I would not have time to do any hiking in the Kananaskis area I knew it was going to be beautiful and would be a very nice warm-up for Banff NP.  Unfortunately it was still pretty cloudy, especially on the tops of the mountains, but the drive was still very beautiful.  Note: There were WAY too many beautiful pictures of the Kananaskis area to post them all here.  To see them all click on the link at the bottom of this article.
I thought it was interesting that the road through the Kananaskis Country (hwy 40) is closed from Dec 1 to June 15.  Everything from Glacier National Park (US) up has a very short season….like 3 months a year.  That's a lot of snow cover for the other 9 months!
It was beginning to get dark when I pulled into a picnic area near the junction of hwy 40 and the Trans-Canada hwy to make some dinner.  By the time I finished I was wearing my headlamp…but I still took the time to read some really interesting signs regarding the cougars in the Kananaskis area….as I shined my car headlights on them. 🙂
I pulled into Banff around 9:30 or so.  I was hoping to make it in time to stop by the visitors center to get some hiking information for Banff NP but I was too late.  So as I often do I drove around town to acclimate myself.  There were still some shops open and a lot of people.  I stopped into a couple of shops and called it a day as I was hoping to get an early start tomorrow.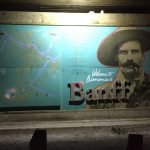 Until next time here's another of my favorite quotes…..
"What lies behind us and what lies before us are small matters compared to what lies within us" – Ralph Waldo Emerson
Click here to view all pictures for: Calgary & Kananaskis – Days 27, 28
Click here to view all past and current – Pictures
Click here to view all past and current – Videos