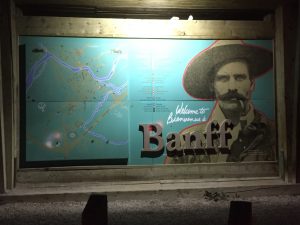 I woke in the town of Banff Canada this morning. Banff was one of the towns that I was really looking forward to visiting as I've always wanted to come here (to ski).  I was supposed to come for a ski trip a few years ago but had to cancel, so I was anxious to explore the area.  My first stop, after breakfast of course :-), was the Banff Visitors Centre on main street Banff to get some information on the hiking trails around Banff.
At the visitors centre I met a very nice French Canadian man named Matt.  He gave me a map of Banff National Park (images) and took the time to go through each of the different areas of the park and highlight some of the top trails in each area.  Now, while this may not seem like a big deal, I mean, that's his job right?  Well, let's just say some (most unfortunately) of the park rangers and visitor center staff I have met in the 10 or so parks I've been in thus far have been less than helpful. 🙁  So, I was pleasantly surprised with the amount of information and time Matt provided and I definitely let him know what a great job he was doing and how appreciative I was.  So I left the visitors center with the information I needed….now to pick one of the many great trails in the area.
But before I headed out to the trail I wanted to take a little time and explore the town of Banff.  Banff is a nice town for sure with many shops, restaurants, etc.  It reminded me very much of the towns of Aspen and Vail in Colorado….ski towns….very expensive ski towns.  Now I have to be honest, while I can appreciate all the amenities towns like this have to offer as much as the next person, being totally honest, it's not my thing.  While I can and do very much enjoy occasional trips to the city (love going to Manhattan and Philly for dinner/shows/ballgames/etc.) my preference is definitely more for the country….especially when I'm on a hiking trip. 🙂  So I spent a little time walking and driving around Banff but was itching to get hiking.  I did see one thing in Banff that made me smile….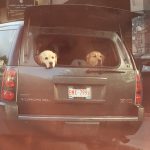 They were just sitting patiently waiting for their humans to return. 🙂 (I apologize for the quality of the picture as I had to take it quickly through my windshield).
As I quickly looked over the map of local hikes I wanted to find a place that would provide some good views of Banff and the surrounding mountains.  I decided on a short, but fairly steep, trail just outside of town to the summit of Sulphur Mountain (images, AllTrails).
The trail begins at the Hot Springs parking area.  There is a gondola that goes to the top of Sulphur mountain here as well.  I never considered it because I was there for hike as much as the view. I found out later that it was $60 to ride it up and back (remember what I said about an expensive ski town)….so even if I would not have been there for the hike I would have done the hike rather than pay $60 for a 10 minute gondola ride. ha ha   Anyway, back to the trail.
It's a series of switchbacks that climb about 2800′ in about 3.5 miles.  About halfway up you begin to cross back-and-forth under the gondola.  A little further up I began hiking on my first (but definitely not last) snow covered trails of this trip. Overall it was a good trail and a good hike.  I made it to the top in just under 1 hour, holding to my normal goal of 20 minute miles.  Here are a few pics from the hike up….
When I reached the summit I met a girl from Alaska who had been here a few times.  She had just completed the hike and was looking for her parents who road the gondola up.  We talked for a few minutes and she told me all about the area and what to look for and see.  Armed with my new information I left the visitors center area and headed up to the weather station view point.
Sulphur Mountain was the home of research facilities over the years.  The first was a weather monitoring station built in 1903 (the building is still there but it's no longer occupied) and the second was a center to study cosmic rays built in 1978 (it has since been taken down).
The history of the site was very interesting but the views of Banff, the Banff valley and the surrounding mountains were magnificent….
Click here to see a 360 view from the Sulphur Mountain Summit
Click here to see a 360 view from the Sulphur Mountain Summit – #2
Click here to see a 360 view from the Sulphur Mountain Summit – #3
Click here to see a 360 view from the Sulphur Mountain Summit – #4
I stayed at the top for about 30 minutes taking pictures and just soaking it all in and then started back to the visitors center to take the hike back down.  As I was walking back to the visitors center I ran into the girl I had met earlier with her father (she found them!) and had a nice chat with her and her father.  He was a very interesting guy who had moved from Wyoming to Alaska many years ago and never came back.  He was also very familiar with this area and offered a few suggestions for other hikes around Banff.  After a few minutes I said my goodbyes and hit the trail.
The hike back was nice and easy.  On the way down I met the most gorgeous girl I had seen all day so I just had to stop and spend some time talking with and…..petting her 🙂
Her name was Teton and she is a 6 year old husky.  What a beautiful dog!
I made it back to the parking area, made a sandwich for lunch and headed back into town.  I spent much of the rest of the afternoon looking for a new water filter as my 15+ year old Katadyn broke earlier this morning. 🙁  I checked the 3 camping equipment stores in Banff but didn't find what I was looking for so I decided I would maybe try and repair mine and see if I can just "nurse it" until I get back home.  Unfortunately the only hardware store in Banff was closed by this time so I would have to wait until tomorrow for that.  So I found a Starbucks and spent the rest of the afternoon blogging.  After that I made some dinner in a local park and stopped in a pub for a pint. 😉 And it just so happened that the bartender was from New Zealand.  So we spent some time talking about the similarities between the mountains in New Zealand and Canada.  It was a pretty good way to end a pretty good day in Banff Canada. 🙂
Until next time…..
"The human mind once stretched by a new idea never goes back to its original dimensions". – Oliver Wendell Holmes
Click here to view all pictures for: Banff – Day 29
Click here to view all past and current – Pictures
Click here to view all past and current – Videos