I woke in Banff this morning to a very clear and very cold day.  I ended my day last night by watching a large bull Elk walk through a parking lot in Banff just before I went to bed.  While not a big deal in Banff this is not something I see very often (never) outside of Philly (ha ha) so it still excites me.  Unfortunately he surprised me and moved through so quickly that I was unable to get any pictures….but I'm sure you can image.  🙂  However, I did manage to get a great picture of downtown Banff this morning…..
After a quick breakfast in Banff park I jumped back on the Trans-Canada Hwy 1 and headed north toward Lake Louise (more on that tomorrow).  After my short hike yesterday I was itching to do a longer hike, and to get away from the throngs of people, so I decided to do the Rockbound Lake Hike (images).  The trail is located about halfway between Banff and Lake Louise so it only took about 15 minutes to reach the trailhead.  I stopped to take a couple of pictures of the beautiful mountains….
Once I arrived I loaded up the day pack and hit the trail.  The first 3.5 miles or so of the trail was a steady climb and in a thick forest.  I read some posts on this hike and some had described it as "boring"; however, I thought it was great.  About halfway up I found myself hiking in snow again, which wasn't too bad.  Unfortunately, about a mile after that the trees began to thin and the sun was able to melt the snow so from here forward I was hiking in thick mud.  Oh well, it was still a nice hike.
At about 4.5 miles I came to a lake.  I wasn't sure if this was Rockbound Lake or not as there were no signs that I could see.  As I continued up the trail I passed a couple with 4 dogs.  I stopped to pet a couple of the dogs and asked the couple if the trail continued on to Rockbound Lake and they said yes, about another mile and up a steep incline.  I later found that this first lake was called Tower Lake.  Whatever it was called it beautiful….
So I continued up the trail about another mile, up the steep incline (and it was a steep incline) and finally reached Rockbound Lake.  The last part of the hike took me through a beautiful stand of Larch tree that were already showing their beautiful fall colors (yellow).  The lake itself is situated in what looks like a giant natural amphitheater.  It was stunning!  So I plopped down on a large rock and had some lunch while I enjoyed the view.
Click here for a 360 view of Rockbound Lake
As I was enjoying the view and eating my lunch I saw a couple of guys far off in the distance coming down from the peak above the right side of the lake.  I watched them off and on as they made their way down the steep slope and over the open area toward me.  When they got close enough I asked them where they had been and how the view was from there.  They pointed to the top of a peak and said the view was phenomenal and that if I had time I should definitely do it.  I had no idea you could get there from here.  By this time it was about 2:30 and I knew I had at least 1:30 hours to get back to the trailhead.  But after hearing these guys talk about the great view I knew I had to go. So I gathered my things and off I went.
It was a very steep climb and there were a couple of options. I chose a dirt (mud) path to the right of where I had seen the guys coming down. It took about 15 minutes to reach the first plateau.  At this point I was high enough to see that they were right, the view was going to be phenomenal.
Powered by the energy of this great view I pressed on.  The second part of the hike to the peak was not quite a steep as the first but unlike the first climb that went straight up this one went diagonal on the side of the peak.  While it was still steep it was not as steep as the last climb; however, it was a little more tricky as the path was narrow and you had to walk over small, lose rocks.  After another 15 minutes or so I reached the summit of the peak and man-oh-man was it ever worth the climb!!!  I could now see all the way out of the thick forest valley I had hiked through to reach the lakes as well as Rockbound Lake below me.  I could also see that there was a whole other level of beyond this point.  It was absolutely amazing….
Click here for a 360 view from the peak above Rockbound Lake
While I was standing on the peak taking pictures I saw some people coming from the area beyond the peak.  As I did with the guys below, when they got close enough I asked where they had come from.  They told me they had hiked around the "bowl" area above Rockbound Lake to Castle Mountain (you can see the bowl area and Castle Mountain in the 360 picture above…Castle Mtn is the last snow covered peak on the left above the lake).  Once again, I had no idea you could even hike to there and I soooo wanted to go.  But it was at least another 1:30 hours to the Castle Mountain summit so I knew if I did it I would be hiking back in the dark.  Now that doesn't usually bother me; however, this is extreme grizzly country and one of the things they tell you not to do in grizzly country (besides not to hike alone :-0) is not to hike after dark.  So after they walked away I stood for about 5 minutes studying the route and calculating my time to see if there was anyway but in the end I realized it just wasn't happening today.  So I hung out on this peak for another 10 minutes or so soaking up the amazing view and then pointed myself back down the steep, rocky slope.
For the descent back to the lake I decided to take a different route down a gully filled with gravel and some large boulders.  It turned out to be good decision and I was back at the lake in about 20 minutes.  Once there, I stopped to enjoy it for a while longer, took a couple of more pictures and hit the trail back to Tower Lake.
As expected it took me about 1:30 hours to hike back down from the lake to close to the trailhead where I decided to take a spur trail ("spur trail" =   A trail that branches off the main trail and leads to a dead end.  Spur trails usually go to points of interest, like lakes, waterfalls or summits.) to a waterfall called Silverton Falls.  It was a short, but steep, hike to the falls.  
Click here for a 360 view of Silverton Falls
After a few minutes at the falls I continued on the short walk back to the parking area.  Just before I got back onto the Trans-Canada Hwy 1 I pulled over and took one last picture, as the sun went down, looking back toward the area I just hiked.  Castle Mountain is the peak that is second from the right.  Rockbound & Tower lakes would be behind this range of mountains.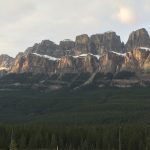 This hike today was just what the doctor ordered….13.5 miles and just under 3400′ of climbing and only a few people.  It was a good day hiking in Banff!
I jumped back on the highway and headed north to Lake Louise.
Until next time…..
"If you want to improve, be content to be thought foolish and stupid." – Epictetus
Click here to view all pictures for: Rockbound Lake – Day 30
Click here to view all past and current – Pictures
Click here to view all past and current – Videos
Click here to view the Facebook post for: Rockbound Lake – Day 30