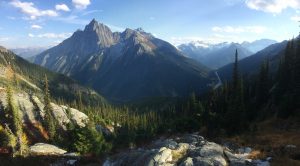 I woke early this morning next to Peyto Lake (images) and it was COLD!  The thermometer I have said it was 17!  It was getting light outside but the sun had not yet come up.  I went outside and walked down to the lake shore.  It was so beautiful…..
Click here to see a 360 of the sunrise over Peyto lake
It was so peaceful standing there beside that gorgeous lake with no one around. I wanted to stay until the sun came up but it was so cold that I simply could not. I stayed until both of my hands went numb 🙂 and finally gave in and ran to the Jeep for warmth. Once the feeling came back in my hands 🙂 I started driving south again.
When I got back to Hector Lake (images) I stopped at the picnic area to make breakfast.  But before I got to breakfast I walked down to check out the lake as the sun was now rising over the eastern peaks.  As I was walking down to the lake I could see the sun shining brightly on the mountains behind the lake.  When I got to the lake there was a thin layer of fog laying just over the surface and a family of ducks swimming lazily across the water.  Needless to say it was incredible!  I (of course) took several pictures.  I took a couple of the ducks but unfortunately they were too far to get them clearly.  The whole scene was just breathtaking….
After I finished breakfast I loaded up, warmed up 🙂 and headed a short distance further down the Icefields Parkway and then west on the Trans-Canada Hwy.  After about 10 minutes on the Trans-Canada Hwy I passed from Alberta into the Canadian providence of British Columbia and Yoho National Park (images)  I was pretty excited as there are many places I have always wanted to see in BC…and here I was!
I would have loved to have done some hiking and exploring in Yoho National Park but I knew when I began this journey that I wouldn't be able to do every park or every trail or every town or every…..  My goal for today was to do a hike in Glacier National Park (images) so I continued on past Yoho NP with the hopes that someday I'll be back.
So you're probably thinking at this point, "Hey, wait a minute….he just left Glacier National Park about a week ago and now he's going back?".  Well, that's a good question. And the answer is….both the US and Canada have a national park named "Glacier".  They are two completely separate parks with no connection (to my knowledge) that just happen to be named the same. Anyway.  As I was planning this trip I came across some amazing scenery in Glacier NP Canada so I knew it was one place I wanted to go.
The drive to Glacier took about 2:30 hours.  Unfortunately I had a few delays from construction that added to the time. I had already decided on a couple of different hikes that I was interested in.  My plan was to stop at the visitors centre (remember we're in Canada so it's "centre") and get some up-to-date trail information and make a decision. When I reached the park entrance there was a long line of cars sitting waiting on a construction delay.  My heart began to sink as, sitting here, all I could see of the valley before me was smoke….thick smoke.  I had heard that much of British Columbia was covered in a smoky haze due to the forest fires but I had hoped that some (or all) of it might dissipate before I arrived due to the recent rains.  From where I was sitting it didn't look like that was the case….at least not in Glacier.
After about 20 minutes we began to move and about 10 minutes later I was sitting in front of the visitors centre.  Although I was later than I had planned everything else was pretty much on scheduled.  And I was very relived that this area was not smoky at all.  It was weird but I was very thankful for the clear skis. So I walked into the visitors centre with the plan of quickly getting a trail map and hitting the trail. Unfortunately however, this is where my plan kind of got derailed.
When I went into the visitors centre I was greeted by a female park ranger.  I asked her for a hiking map and while she reached to get it she asked me if I was with a group or hiking alone.  I said, "I'm alone" and (unfortunately) she informed me that many of the trails in the park were restricted to groups of 4 or more due to bears.  I was like, "you're kidding"…she was not.  So she took the list of hiking trails and began to cross out the ones that were restricted to 4 or more.  By the time she finished there was literally like 4 trails remaining from the original 20 or so. I looked at the list and of course the 2 I had in mind to do were both on the restricted list.  I was soooo bummed!  Of the 4 hikes remaining 2 were easy "boardwalk" trails and 1 was a 4 day loop!  So I said, "well, it looks like I have no options".  So I "thanked her" (like thanking a dentist for a root canal 🙂 and headed out.  The one remaining trail was called the Hermit and the trailhead was only about 1/2 mile from the visitors centre.
Before I headed out I walked over to the trailhead for the trail that I really wanted to do (the trailhead was in the visitors centre parking area).  The thought crossed my mind (more than a couple of times) of like, "really, what can they do if I just hike it anyway….I mean, who would know (this was the conversation I was having with myself as I walked over to the trailhead 🙂 ).  When I reached the trailhead it seemed that they may actually take this group restriction thing kind of serious…. 🙂
So I reluctantly 🙂 decided I would obey the rules.  I wasn't afraid of the bears but of the $150 fine! (ha ha)  So I hopped in and drove about 3 minutes to the other trailhead.
Now, before I arrived I knew nothing about the Hermit Trail (images).  When I pulled up to the trailhead I got out and walked over the sign that shows a trail map and tells a little about the trail.  Here is literally the first thing that the sign says about this trail, "Hermit trail has the reputation as the steepest hiking trail in a park known for its steep trails".  I was like, "well that's just perfect" (being very facetious).  Now, if you've been reading these blogs you know that I, more than most, love a good mountain climb.  I love to challenge myself and I love the feeling of accomplishment when I complete a tough climb.  With that said however, after that past few days, I honestly wasn't looking to do the "steepest trail in a park known for steep trails" today.  🙂   So I sat for a few minutes and pondered how much I really wanted to hike in Glacier NP Canada. I thought, maybe I can find a tough biker bar instead and run over their motorcycles because either way I'm going to get my butt kicked today!  (ha ha)  But then I thought, at least if I do the hike I'll probably get a nice view (vs the biker bar thing), so I loaded up and hit the trail.
Within the first 1/2 mile I could already see how this trail got it's reputation.  It started out with a series of steep, tight switchbacks. After that it changed to just straight up the side of the mountain with a series of steep, rocky steps.  This went on for…oh, ever!  (ha ha)  About halfway up I realized why this trail was not on the restricted list…not even the bears are stupid enough to climb a trail like this! Seriously :-).  When I got about 3/4 of the way up I did come to a couple of places with a nice view down into the valley….
I stopped a couple of times to catch my breath and take pictures but mostly just climbed like a mad man.  At one point it got so steep that they had installed a rope to pull yourself up with….that was nice of them. 🙂  As I got closer to the "top" (it wasn't the top) it was a little less steep and they had arranged rocks as steps to cut down on the erosion from everyone trying to climb up through dirt and mud….
Just a little shy of an hour I reached the "summit" of the trail.  I say "summit" because this was the top of the Hermit trail but it was not the top of the mountain.  The "official" trail ends at a camping area in a high alpine meadow, and that's where I was.  It always amazes me when I hike up a steep mountain and find a high alpine meadow or lake.  I mean, looking up from the bottom you would never know that there was this huge, open area high up on the mountain.  And that's one of the reasons why you just have to hike to the top.  As that great philosopher Forest Gump said, "a mountain is like a box of chocolates….you never know what you're going to find" (ok, so that's my version of what Forest Gump said, but you get the jest 🙂 ).
While I was walking around the meadow taking pictures I met two guys, Ben and Roger.  Ben was from Calgary.  He was here with his girlfriend but she wasn't feeling well so she was down in the car getting some rest.  Roger was from Vancouver Island and has here with his dog Sadie.  They had just met on the hike up.  We talked for a few minutes and while we talked we were all looking up at the ridge above us.  Finally I asked them if they were wondering what I was wondering….what was up there and if we could get there.  They said they were so I said, "let's give it a shot….what's the worst that happen" (ha ha).  So we all chose different routes and took off on a straight up scramble over the rocks.
After a few minutes of climbing Roger had to drop out because the rocks were just too big for Sadie to navigate.  So Ben and I kept going.  It was tough but not too far and we both made the top at the same time.  I had learned earlier that Ben was 25.  That made me feel bad and good at the same time.  Bad because it made me feel old but good because he and I went step-for-step up the climb.  🙂  At this point we were way above the treeline and hiking/climbing on nothing but rock.  When we got the "top" we could see that the ridge actually went much further.  From this point we could see the top of the saddle….at least we think it was the top.  I was feeling pretty good at this point and wanted to continue on.  Ben said he would like to continue but he should probably get back to his girlfriend.  So at the point we said our good byes and Ben started back down and I continued up…by my self…once again. 🙂  Here are a couple of pictures from the ridge line.
Click here to see a 360 view from the ridge line
While I was still going up at a fairly steady incline the hiking from this point on was more technical than physical as I had to navigate huge boulders, lose gravel, patches of snow, creeks and slick rocks.  I kept going….and going….and going….and…well, you get the picture.  While I could see the saddle it was definitely a lot further than it appeared. At this point I was on a quest.  I really wanted to make it to the top of saddle to see if I could see a view of the next valley over….the one I originally wanted to hike but couldn't due to the restriction. So I kept going…and going….and (ha ha).  It was pretty barren up here but still pretty in it's own way. I stopped and took some pictures as I crossed a pretty large snowfield….
Click here to see a 360 view of this area
After probably 45 minutes of strenuous hiking/climbing I made it to a point just under the rim of the saddle.  Unfortunately however, I discovered that the saddle sat on top of a rock "wall" that was probably 50′ – 100′ high.  I stood and studied it for probably 5 minutes.  I looked back-and-forth and back-and-forth trying to find a trail or a place where I could possibly climb up.  As for a trail, quite honestly, there had not been a trail since I left the meadow area over an hour ago so I didn't really expect to find one.  While I knew I wasn't the only person to ever come this far I also knew that this area certainly did not receive very much traffic.  Most people stop at the campsite in the meadow.  I had read somewhere that this area was primarily used by "mountaineers"…those who climb mountains (ropes, carabiners, harnesses, etc.) to access several of the high peaks in the area.  Anyway.  I looked for 5-10 minutes but I could not find anyway to get up to the saddle.  Needless to say I was pretty bummed.  I thought about giving a couple of areas a shot but since I was alone I allowed my better judgement to prevail (hey, it happens every now and then 🙂 ).  So I reluctantly turned around and started back down.
So it wasn't until this point that I thought about the fact that I was alone (of course I knew it but just didn't think about it), I was in a pretty remote area where few people ever come and it was starting to get late in the afternoon. This wasn't the first or last time I was in a situation like this but it was the first time I really stopped and thought about it. So anyway, the result of this "revelation" was that while I descended at a pretty good pace I gave a little more attention and focus on each step as navigated the rocks, snow and creeks back down to the meadow area.  And I'm happy to say that I made it down with "almost" no issues (I slipped on one rock and cut my knee, but it was just a flesh wound :-)….who can tell identify where that came from?).
Just before I reached the meadow/camping area I came across something that reminded me of a hike I did on Mount Kosciuszko in Australia last year (The highest toilet in Oz).  Of course I just had to stop and take a picture….you can't be bashful and camp up here 🙂
When I got back to the meadow it was just too beautiful to pass by.  So I found an area where I could sit for a few minutes and take everything in.  It was really cool because you see the traffic passing in the valley way below but you could not hear a sound from the big trucks and cars rolling by below.  It reminded me how important it is for us to find time, space, silence, etc. for ourselves just to breath and take everything in before it passes us by….even as the world carries on around us,  It was refreshing!  Here are a few pictures as I started back down the trail….
And as I walked down I came to a lookout that I hadn't noticed on the way up and it was just incredible! It was a view of the Glacier valley, it was the last picture I took on this hike and it is one of my favorite pictures of the entire trip! There are many reasons I love to hike and views like this are among the top….

When I got back to the car I changed out of my hiking clothes, made a sandwich and quickly hit the road as I wanted to try and make one more park before it closed. I drove as quickly as I could but unfortunately I arrived 15 minutes after they had closed the gate to Mount Revelstoke National Park (images).  The interesting thing about Mount Revelstoke is that it was here where ski jumping was first created in 1915.  So unfortunately I didn't make it in time to see the park but I did see some information at the bottom of the mountain that was pretty interesting.
All in all it was another great day hiking in the Canadian Rockies. Thanks for coming along!
Until next time…..
"Every excuse that we make keeps us away from those things that we want the most out of life". – Kyle Maynard
Click here to view all pictures for "Glacier National Park, Canada – Day 35"
Click here to view all past and current – Pictures
Click here to view all past and current – Videos
Click here to view the Facebook post for "Glacier National Park, Canada – Day 35"