After my epic, and painful, hike up Hermit Trail (images) in Glacier National Park Canada (images) the next places on my destination list were Whistler BC (images) and Garibaldi Provincial Park BC (images).
It was quite a distance from Glacier to Whistler and my route took me through a small city called Kamloops. The forecast for the Whistler area called for rain/snow for the next two days so I decided I would wait it out in Kamloops..as I did in Bozeman and Calgary.
Kamloops seemed like a nice little city. Although I never actually made it into the "downtown" area the area I was in was nice. It was large enough to have everything you need without driving too far but not so big that you couldn't get around. I looked on-line to see if there was anything in or around Kamloops that I really wanted to see but didn't really see anything. So I did laundry and bought some supplies but spent most of my day sitting in a Starbucks blogging. After going none stop for the past couple of weeks I could use the downtime anyway. So that was about it for my Saturday.
On Sunday morning I attended Summit Drive Church (website). I thought it was kind of funny when I pulled up and saw the sign out front that said, "International Sunday". I thought, "Hey, they knew I was coming" since I'm "international" (hey, I am from a different country, ha ha).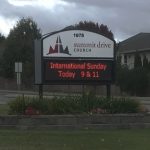 Before the service began I was getting some coffee in the lobby and a guy said to me, "Is that UK on your mug for University of Kentucky". I said, "Yes it is, I grew up there". He then told me that his wife was from Georgia. He was from Kamloops but he followed US college sports closely…so of course we stood there and had a great conversation until the service began. 🙂 He was a great guy and I was honestly surprised to find someone in Kamloops Canada who knew so much about US college sports.
Side note…for anyone who may not have traveled outside the US you may not be aware that college sports are really a US thing. I can't say that there are absolutely no college sports outside the US but as a general rule they do not have organized sports leagues for colleges outside the US. I don't know why that is but I was surprised to learn this several years ago. I know several of you are like me in that you like college sports much more than pro sports. So I cannot imagine not having college sports. Why, that's un-American! (ha ha)
The message was given by their missions leader. He began by talking about how many people in the world are on the move (mostly being forced to relocate). He said that if all the current refugees around the world were in one country it would be the 4th largest country in the world! That was eye-opening! He then spoke about many international students in the Kamloops area who they had come to know and had one of them come on stage and speak about her life in Africa and how it's been for her coming to Canada. She was very thankful for the opportunity God had given her to come here and study but she missed her family and the food (everyone got a good chuckle from that) and she was looking forward to going back and using her education to help her family, community and country. Now how awesome is that!
As most of you know this is something that is close to my heart so I know it was not a coincidence that I chose this church to attend on this day with this "International" message (and it was even more interesting for something I would encounter when I get to Vancouver…more on that in a few days).
After church I stopped at the Starbucks again to finish a blog that I started yesterday. After that I grabbed a bite and headed west to Whistler.
The drive took me through the Juniper Beach Provincial Park (images), the Marble Canyon Provincial Park (images) and through an amazing canyon on Rt. 99 that followed the Fraser River in the Fountain Indian Reserve (images). It went on, and on, and on and every corner just had an amazing view. It finally ended and I crossed the river in a town called Lillooet (images). Then I started a steep climb back into some gorgeous snow covered mountains. I was so glad I was doing this drive during the daylight! The only bad thing was that it was a narrow, winding road with no place to pull off so I wasn't able to get any good pictures…but I did slow down and snap a couple from the road. You'll just have to take my word for it…it was gorgeous! 🙂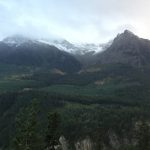 By the time I crossed over the pass and down the other side and reached the Duffy Lake Provincial Park the sun was setting. I made it up/down the next mountain to the banks of the Lillooet Lake just in time to get a few pictures…
From that point it was only about 20 more minutes before I arrived in Whistler. For those who may not know Whistler is a huge ski area in southwest British Columbia. Like most ski areas they also have a lot to do in the summer months with hiking, mountain biking, rafting, etc. Being a skier Whistler is one place that I have always known about and wanted to visit. To be honest I always thought I would be here in the winter but here I am. So as usual, when I arrived, I took about an hour and walked all around the village (most large ski areas have a village). I considered going in to a couple of places that had live music but after the long drive I was pretty tired and I knew I was going to do a big hike tomorrow so I decided to pack it in for the night.
So nothing too exciting during my two days in Kamloops; although the drive to Whistler was really nice.
Until next time….
"The only man who never makes a mistake is the man who never does anything." – Theodore Roosevelt
Click here to view all pictures for "Kamloops – Days 36 & 37"
Click here to view all past and current – Pictures
Click here to view all past and current – Videos