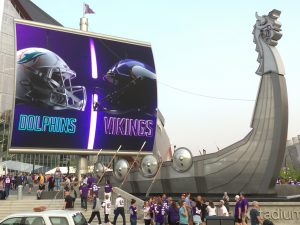 I woke this morning with the intention of touring around Minneapolis and St. Paul and then heading West to North Dakota late in the afternoon. But there was one "problem"…last night, while I was at the Twins game, I was texting with my cousin and he reminded me that the Dolphins were playing the Viking in Minneapolis tomorrow night (which of course is now tonight).  So for a little background information….although I have not followed them closely in several years I actually grew up a Dolphins fan, so it would be pretty cool to see them. But I was planning to leave Minneapolis today.
So just for fun I searched for tickets just to see what was available and how much. When I discovered I could get a decent ticket for around $25 that sealed the deal for me. So I bought the ticket and headed out to tour around Minneapolis and St. Paul.
One thing I was interested in seeing in Minneapolis was the Mississippi River (Mississippi River, Wiki). Why? Well, although my family is all from NC, we lived in Kentucky for about 10 years while I was very young. The Mississippi River bordered the county we lived in so I grew up fishing and swimming in it and watching the tug boats push the barges up and down it and wondering where they had come from and where they were going.  Since I was very young I've always had an interest in it. The first time I went to New Orleans I couldn't wait to see it (yes, I'm weird). So it was one thing I knew I wanted to see when I planned this trip since I had seen it in the middle (Kentucky) and at the end (New Orleans) I wanted to see it in the state where it begins. It's definitely not as big or wide as it is further down the country but it's still the "mighty Mississippi" to me.
Note, that evening as I was driving through Western Minnesota I read a interesting story at a rest stop about the man who discovered the headwaters of the Mississippi Henry Schoolcraft, Lake Itasca).
After that I drove around the downtown area for a while. I wanted to visit the tourist information center and get a picture beside the Mary Tyler Moore statue 🙂 (Mary Tyler Moore) but I drove around it 3 times and could not find parking anywhere. So just before I reached the point of frustration I bagged it and headed to St. Paul instead.
St. Paul (St. Paul, Wiki) is the capital of Minnesota and it's only about 15 miles from Minneapolis. I drove straight to the capital building and got out to take some quick pictures. Once I was out I realized that I really needed to go to the bathroom (I know TMI, but it's part of the story). So I started looking around at all the buildings and there was nothing in sight anywhere (for those who live close to or have visited big cities you know how hard it can be to find a bathroom). I was downtown, and wanted to stay downtown, so taking 15 minutes to drive to the burbs to use the bathroom was not going to happen. So me being me I thought, "what the heck, I'm going to walk up to the capital building and ask them if they have a public bathroom". 🙂 So I walked up the grand steps to the capital and through the stately doors and much to my surprise, there were no security guards or metal detectors or even a receptionist. You just walked right in to this grand rotunda and there you were….cool.  And wow, this place was nice.
Now at the risk of sounding like Opie Taylor (if you don't know who that is google him 🙂 , I really had no idea that you could just walk into a state capital building and start walking around. I expected at any moment to hear a large sounding voice (you know, like Mr. T, ha ha) say something like, "Hey, what are you doing in here", but it never happened. So I was like, this is so cool, and I just started walking around taking pictures. Then I remembered that I had to go to bathroom (the reason I came here to begin with) so I thought, I'll just look around. And I literally turned the corner and there it was, a men's room.  Yay me!  (yeah, it doesn't take much to get me excited, :-). After I did my business, it was back to business, with checking out every corner I could and seeing just how far I could go before I heard the "large voice". 🙂 It was really nice, with 3 floors. I found out they have a guided tour after I tried to go up on the roof and was told you needed to be in the guided tour for that (ok, it was actually a small female who told me, not a "large voice", but I did find the limit :-). I checked on the guided tour but the next one wasn't for 2 hours and I was not going to hang around that long. Besides, my parking meter was running dangerously low at this point so I had run (remember, I only came to use the bathroom, ha ha).
Click here to see a 360 of the Capital grounds
Click here to see a 360 of the Capital Rotunda
Note: To see other 360 views of the capital – click the link above, click "You" at the top, click "Albums", select "Minneapolis & St. Paul – 2017"
My next stop was St. Paul's Cathedral. No, not THAT St. Paul's Cathedral (London, although I have toured that one too). But this one was supposedly modeled after that one. I've seen many large cathedrals in Europe and NY and other places and this one stacked up pretty well. I went through it fairly quickly and headed out to find some "lunch" as it was almost 3. I drove to the burbs and found a really good Thai restaurant (lovin' me some Thai)…yummy! After lunch I headed to a Starbucks to upload pictures and write a blog post.  As usual I lost track of time and before I knew it I was late leaving for the game…ugh!
Click here to see a 360 of the St. Paul's Rotunda
I high tailed it back to downtown Minneapolis where the US Bank Stadium (US Bank Stadium, Wiki) is located. I didn't realize this (or had forgotten) but they only moved into this stadium last year. It was pretty impressive as I passed by it looking for parking…that wasn't 2 or 3 times more than what I payed for my ticket (what's up with that?). As I was driving down the street seeing all the $40 & $45 parking signs I decided I would head back to the parking garage where I parked last night for $15 bucks (yes, I can hear some of you laughing as you read this…it's just not right to pay more for parking then the ticket to the game…not gonna do it! :-).  But as I continued down the street I saw one for $20, which was less than my ticket, so I jumped on it. 🙂
The game was ok. It was the last pre-season game so almost none of the 1st string guys were in for either team, but I was surprised that the stadium was packed. The stadium was really nice and I made sure I checked it out top to bottom, like I did at the capital building today. (ha ha)  And just to top it off, the Dolphins kicked their butts (30-9). So all-in-all it was a good night.
Click here to see a 360 of US Bank Stadium
After the game I found my car, which was good because my phone died during the game and I really didn't pay much attention to where I parked since the phone automatically drops a pin…lesson learned, don't trust your phone to get you back to your car.  I was pretty awake so I decided to drive for a while toward my next thrilling destination….Fargo baby!!! 🙂  See you there!
To view ALL pictures related to this blog click here: Minneapolis & St. Paul – US & BC Trip 2017
To view ALL videos related to this blog click here: Minneapolis & St. Paul – US & BC Trip 2017