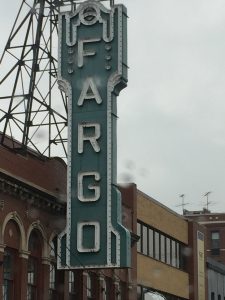 After doing the MLB tour for the past 5 days I decided that today was going to be a "down" day. With that in mind I didn't have any big plans, expectations, or things I had to see or do when I hit the North Dakota state line and I'm happy to say that Fargo did not disappoint in that regard (my apologies if there are any Fargonites or Fargoians reading this. 🙂
Unfortunately I'd been having some smart phone issues over the past week and was considering purchasing a new one.  Since I often travel overseas I purchase unlocked phones so I can use local SIMs when I am in foreign countries to significantly cut voice & data costs.  Fargo was the last place I would have access to a Best Buy for the next several days so I headed there first.  I found the phone and I also found a couple of places in Fargo that do phone repairs. So instead of having the hassle of trying to change everything to a new phone in this middle of this trip I opted to have the battery replaced in mine instead of purchasing a new one.
Before I took my phone to be repaired I visited the one place, in Fargo, that I did want to see…..the Roger Maris museum (Roger Maris Museum, Wiki). Who is Roger Maris you ask?  Roger Maris (Roger Maris, Wiki) was a major league baseball player (here we are back on baseball 🙂 ) who, in addition to playing in 7 World Series , 7 All-Star games, 2 AL MVP and 1 Gold Glove, held the single season home run record for 37 years (61 in 61), and in my humble opinion, should still have it today (that's another story).  Although Roger was not originally from Fargo his family moved there when he was a child and it was his adopted city from then on.  The "museum" is small and is actually in a wing of the West Acres Shopping Center; however, it actually has quite a bit of memorabilia and was quite interesting.  I'm not sure why but Roger Maris was always someone who stood out to me from the old days of baseball with Micky Mantle, Roberto Clemente, Ernie Banks, Willie Mays and Bob Gibson just to name a few. Anyway, if you're a baseball fan and you ever find yourself close to Fargo, ND I would definitely suggest you stop by the West Acres Shopping Center and check it out.  And if you don't like it you can always get some lunch at the food court or a new pair of chinos at the Gap. ha ha
After that I went to have the battery replaced in my phone. I struck up a conversation with the guy who owned the repair store while he was working on my phone. He asked me what brought me to Fargo and when I mentioned that I live outside of Philly he said he went to school with Carson Wentz (rookie QB for the Eagles).  They both went to North Dakota State which is in Fargo….well there you go.  🙂  He said he didn't really know him but they were there at the same time.  We talked football for a few minutes as he finished my phone.  Nice guy.
After this I took some time to drive around downtown Fargo.  It looked pretty much like what you would expect downtown Fargo ND to look like.  It had quite a few businesses in the downtown area, but like most older cities, many things have moved further outside of the downtown.  I did manage to get a picture of (what I believe is) the most iconic thing in Fargo….the theater sign.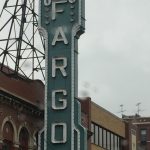 I spent the rest of the afternoon sitting in a Starbucks uploading pictures and working on blog posts. If you haven't traveled much you may not know that Starbucks, McDonalds and now many Buger Kings are the free wifi meca's of the world.  On any given day, at almost any Starbucks, and many McDonalds, around the world (at least in the countries I have visited) you will most likely find someone sitting in front of a laptop for hours.  Well, that was me in Fargo ND today. 🙂
I headed out in the early evening toward Bismarck. It's only about 200 miles from Fargo to Bismarck and I planned to stay somewhere between as I wanted to see Bismarck the next day.
The next morning I woke to another gorgeous sunrise over the open plains…
And I saw the first of what would be many huge fields of beautiful sunflowers pointing their faces toward to sun.  I never knew that ND & SD produced so much sunflower seed.
I made my way into Bismarck and drove to the capital building. For anyone who may not know Bismarck is the state capital of North Dakota.  It looked very official but not nearly as grandiose as the capital building in Minnesota.  I came across 2 guys walking dogs on the capital lawn and had a nice conversation. The one guy was visiting from out of town.  As soon as he spoke l said, "what part of Minnesota are you from".  So we began a conversation about accents and different parts of the country.  I love interacting with people like this.
After doing a little shopping to buy some essentials, I once again spent the rest of the morning and the early afternoon sitting in a Starbucks.
I left Bismarck by mid-afternoon heading South toward Kadoka South Dakota.  This is the destination I chose so I could easily access the Badlands National Park early the next morning.  My drive took me through both the Standing Rock Reservation (Wiki) and the Cheyenne River Indian Reservation (Wiki).
Both of these reservations are made up mostly of native Lakota tribes (Wiki).  Sitting Bull and Crazy Horse were two of the more well known Lakota chiefs. Unfortunately it was some of the people from these reservations who were killed in the Wounded Knee Massacre (Wiki) in Southwestern SD in 1890. I've always had a place in my heart for native Americans.  Partly due to the fact that my family has Cherokee in our ancestry but beyond that I've always felt angry and ashamed for the way many native Americans were treated during the 1800's and early 1900's in the name of Manifest destiny (Wiki).  I believe that regardless of what we may think about immigration today native Americans are the ORIGINAL Americans and the rest of us were all immigrant at some point.  Just something to think about.
I had definitely entered the land of wide open spaces, long straight highways and tiny little towns.  I've driven in the Western US several times and I always love driving across the open plains. If you've never experienced it there are many, many places where you could set your cruise control, set your steering wheel straight and sleep for an hour or more and still be on the highway when you wake up. 🙂  And chances are you may not have even passed another car, or a house in that hour….or longer.  I've always loved the vast expanses of the American West! There is something beautiful to me when I look out over an open plain and basically see nothing as far as I can see….and here I was….
I drove into the early evening and my day ended exactly as it began….only looking to the West this time instead of the East.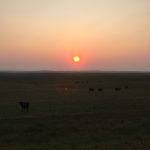 Remember:
To view ALL pictures related to this blog click here: North Dakota – US & BC Trip 2017
To view ALL videos related to this blog click here: North Dakota – US & BC Trip 2017