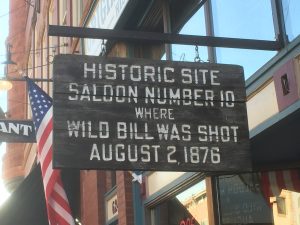 I woke early today, made/ate breakfast and headed south to the highest point in Black Hills National Forest, Black Elk Peak (Wiki, AllTrails, Images).  It took about 35 minutes to get there. Now, what I didn't know was that Black Elk Peak is "just" inside Custer State Park (I think it's actually in Black Hills NP but the trail-head is in Custer) (Custer State Park, Wiki, Images) and of course the all access National Park pass I purchased doesn't work in state parks. When I arrived at the state park gate there was no one there but it was $20 for a 7 day pass (and several of you already know where this is going :-). Well, I was planning to be there for less than 3 hours (maybe 4) and I wasn't about to pay $20 to do a 3 hike! 🙂  So….I found a place to park just outside the park and hiked to the trail-head inside the park! (ha ha) I mean, come on…seriously?  $20 for a 3 hour hike…NOT! 🙂
The trail-head was beside a really beautiful lake. It was about 7:30 so the sun was still very low in the sky. There was a hazy in the sky from the smoke from the western fires that "filtered" the sun so you could look directly at it. It was a beautiful dark/burnt orange. I couldn't help to take several pictures….
Once I got started it was a good hike. It felt good to get out in nature and I really enjoyed it. There is an old fashioned western type fire tower at the top of Black Elk Peak and it was really cool (actually it was really warm compared to the very cold wind at the top that day). Now, while I knew that Black Elk Peak was the highest peak in the Black Hills what I didn't know is that it is actually the highest peak in South Dakota AND the highest peak between the Rockies and the Pyrenees (that was on a plaque on the fire tower…so that was cool!).
For the hike down I took a different trail and a couple of side trails. One was called Little Devils Tower (you'll read about the "actual" Devils Tower in WY tomorrow) (AllTrails, Images). It was a good hike with a great view back to Black Elk Peak. I also passed some peaks called The Needles. There were at least 5 people rock climbing those peaks (see pics below). I'm not sure how quickly they climb but they were all at the top when I arrived around 11.  Can you can spot the climbers on the top of The Needles in a couple of the pictures below?
By the time I made it back to the lake area it was pretty full with people enjoying their Labor Day holiday. I made it back to my car (outside the park :-), made a sandwich and headed north.
When I got back to the main road I toyed with the idea of driving 18 miles south to see the Crazy Horse Memorial (Crazy Horse Memorial, Wiki) but decided to start north as I had another pretty full day planned.
Since I was heading west into Wyoming I drove north toward I-90. It just so happened (actually I planned it 🙂 that this route took me right through Deadwood SD (Deadwood, Wiki). Ok, quickly, do you know the historical significance of Deadwood….well, do you?  Ok, I'll tell you. It's where James Butler Hickok, rather known as "Wild Bill Hickok" (Wiki) lived the last few years of his life and was killed by Jack McCall in 1876. So my first stop was the Mount Moriah cemetery (Wiki) where he and Mrs. M.E. Burke, better known as "Calamity Jane" (Wiki) are both buried.
Next I went down the hill to the Deadwood museum. While Wild Bill left Deadwood with a western legacy, the actual thing that put Deadwood on the map (and caused Wild Bill to move there) was a gold strike in 1875 (Wiki).  Like many gold rush towns of the old west Deadwood went from a sleepy little town to an over populated, busy western city almost overnight. And everything that went with the "boom" came along as well like saloons, brothels, gambling and almost daily gun fights. The Deadwood undertaker and cemetery became very busy for a few years. Unfortunately Wild Bill become one of the customers; although he was shot in the back and not during a duel (Wild Bill Hickok Murder).
So Deadwood is of course primarily a tourist town but I have to admit, I liked it! It was a nice little town with nice little shops, restaurants and an "old west" feel. After touring around Deadwood I spent some time in the Deadwood Starbucks uploading pictures and working on the blog. I spent about an hour there and then continued north toward I-90 which took me to another check mark on the trip map….Sturgis (Sturgis, Wiki).
Now, let me preface this by saying that I am not a "biker guy" and I'm not into Harley's at all (recall my blog from Milwaukee). However, I do have a few friends who are "biker guys…and gals" and who are into Harley's so since I was literally driving right through Sturgis I figured I would at least take a look around. Now, for those of you who may not know about Sturgis it is the host town of what (I believe) is the biggest "biker" rally in the country each year in Aug. The normal population of Sturgis is roughly 6,000 but it's been estimated that upwards of 1,000,000 people have flooded Sturgis during the motorcycle rally. My friend Steve Allen (who has been to the rally in Sturgis) told me that there's not much to see when it's not biker week, and he was correct. Most of the businesses & buildings in town were closed. Deadwood was much more "alive" than Sturgis. But oh well, I can at least say that I was in Sturgis SD! ha ha
I filled my gas and got something to eat before leaving Sturgis and drove a couple of hours into Wyoming so I could be ready to enter my next destination tomorrow…Bighorn National Forest.  See you there!
To view ALL pictures related to this blog click here: South Dakota – US & BC Canada 2017
To view ALL videos related to this blog click here: South Dakota – US & BC Canada 2017